Well, I've spent the past few days reading Sherlock Holmes. Seriously, with so many other detective stories out there, the only ones which can make me read them again and again are the Sherlock Holmes cases by Sir Arthur Conan Doyle. Even Agatha Christie (I absolutely loved "And Then There Were None") is no match for this 19th century crime fiction author.
I mean, you really have to admire his powers of "deductive reasoning" and keen observation to solve the most baffling cases. Coupled with an ironic sense of humour, an ego that sometimes borders on arrogance (yet he frequently lets Scotland Yard take the credit for his work) and a faithful sidekick - Dr Watson, Sherlock Holmes is the icon of private detectives.

Some of my favourites from the many Sherlock Holmes stories would include

The Hound of the Baskervilles
The Adventure of the Speckled Band
The Empty House
The Adventure of Charles Augustus Milverton
It is always fascinating to read about Holme's exploits and I never cease to be amazed at the way he solves cases in 19th century London. The first (and usual) reaction he gets when he announces that "...this investigation draws rapidly to a close" is wide-eyed surprise or skepticism, followed by enlightenment and awe after his explanations - which, by the way, always seems so simple and logical.
And here are some of my favourite quotes from the various stories about the great detective...
"You are Holmes, the meddler."
My friend smiled.
"Holmes, the busybody!"
His smile broadened.
"Holmes, the Scotland Yard Jack-in-office!"
Holmes chuckled heartily.


- from The Adventure of the Speckled Band



"I had at last met an antagonist who was my intellectual equal. My horror at his crimes was lost in my admiration of his skill."


- from The Final Problem



"I have always had an idea that I would have made a highly efficient criminal."


- from The Adventure of Charles Augustus Milverton



'Thank you,' said he, as he replaced the glass. 'It is the second most interesting object that I have seen in the North.'
'And the first?'
Holmes folded up his cheque, and placed it carefully in his notebook. 'I am a poor man,' said he, as he patted it affectionately, and thrust it into the depths of his inner pocket.


- from The Priory School



To be honest, the thought
had
crossed my mind that if he hadn't been a private detective, Holmes would have undoubtedly been a formidable criminal mastermind.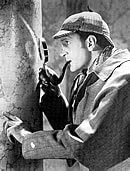 Oh, on a parting note...
The phrase
"Elementary, my dear Watson"
does
not
, in fact, appear in the Conan Doyle books, only later in Sherlock Holmes' films. It was first used by P. G. Wodehouse, in
Psmith Journalist
, 1915.