Gosh... I haven't blogged in days. Nothing much to blog about, except for the occasional glimpse of life's weirder sights.


Looks like the Big Bad Wolf managed to get the 3 little pigs after all... and also all their cousins. o_O
Okay, joking aside, this picture was taken at the SS2 pasar malam more than a week ago (4th August 2008). Those roasted piglets were part of the menu for the charity dinner or something that evening. And no, I was not at the dinner. I was just there for the pasar malam.


If roasted piglets are not your thing, then how about a burnt car?
This... wreck of a car was seen being towed away from Leisure Commerce Square this afternoon.

Here's the story...
[2 days ago] At around 4.00 p.m., a ringing alarm is heard coming from Block B of Leisure Commerce Square. Many people are surprised at the sound but not unduly worried, convinced that it is ringing because yet another lift has broken down. It stops after a few minutes and everybody continues about their business, with the alarm ringing in their ears. Several minutes later, the alarm starts up again, more persistent than before. A short while later, people are stunned to see all the workers and students in Block B pouring out of the building, apparently evacuating the premises. At the same time, thick smoke can be seen coming out from the basement car park. All this time, the alarm has been ringing.

[The Reveal] According to Ms. Catherine (our ECS lecturer), the incident was started by a spark from some broken wiring in the basement car park. It seems that the spark caused a pillar to catch fire, which eventually spread to the car parked next to it. As we all know, cars and fire do not mix well, resulting in quite a nasty mess. Luckily nobody was hurt in this unfortunate incident. The same cannot be said for the car, which, as you can see, had more than its rubber burnt off.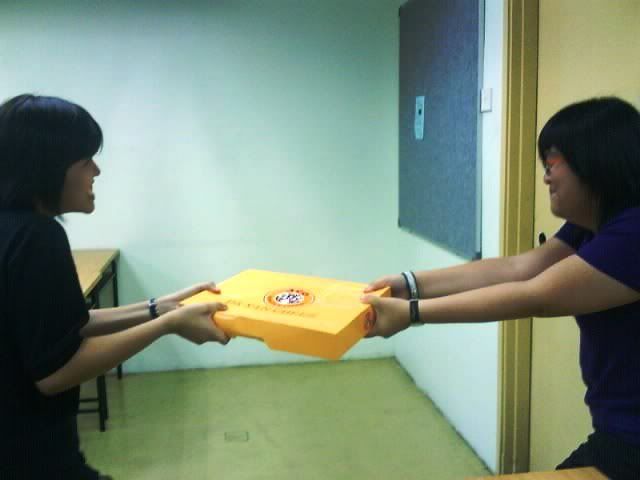 If you wanna know how good J. Co. Donuts are, look no further. This is the proof!
...Yeah, proof of how "wu liao" we are. Fact is, that box is empty. We just couldn't find a place to dispose of it and were passing it around. I was about to pass it to Ruth when it suddenly seemed like a good opportunity to take some random pics, hence the "It's-mine!-No-it's-MINE!" moment. LoL~