Okay, so in the spirit of Friday the 13th, I decided to watch all of The Vampire Diaries episodes that I'd downloaded so far. (And also as part of my evil plan to PROCRASTINATE! Muahahaha!)



And I must say, Damon Salvatore [left] (played by Ian Somerhalder) is too gorgeously hot that I just had to post something about him. ♥

Before I go into all out fangirl mode, you must know that I would have totally ignored and dismissed this series as just another trap for young people, especially with all the vampire craze going on, except for the fact that I'd actually read L.J. Smith's series with the same name last year, so I got curious and downloaded it. According to one of the websites, they tweaked the storyline a bit and added some characters, but to me, they essentially changed the entire thing! >_<

First off, Elena Gilbert (Nina Dobrev) is supposed to be BLONDE. As in, smart-bossy-teenage-head-cheerleader-goes-through-parents'-death BLONDE. And don't even get me started on Stefan Salvatore (Paul Wesley), who looks pretty much like the guy on the book cover but totally unlike how I imagined him in my head when reading the book. (I think I see a pattern here. Hot vampire guys in Laura's head =/= Hot vampire guys in other people's heads. O_o Hint: Edward Cullen) As for Damon... Well, let's just say the series has me more fascinated with the bad guy than the good guy.



I don't think I'm supposed to reveal any spoilers here or anything, but with the way the series is going, I doubt that it'll be anything like the book. I can only say that, after I read them over the second time around, I noticed that Stefan and Elena's story is pretty much happy ever after over, but there's still so much more to be discovered about Damon.

I KNOW! I have this fixation about the guy! Stop rolling your eyes. -_-"


Damon: I'm Damon, Stefan's brother.
Elena: He didn' tell me he had a brother.
Damon: Well, Stefan isn't one to brag.
Hah! Typical. I guess I have a thing for
hot + sexy + sarcastic
vampi- I mean, guys.
The Salvatore brothers. ♥
The 3 main characters of the series.
Promotional poster.
Damon Salvatore ♥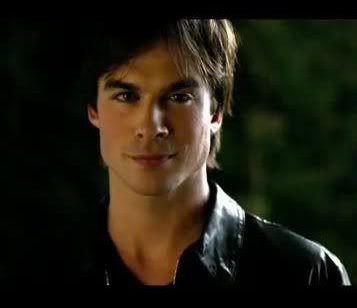 Damon with his typical smug enigmatic expression. ♥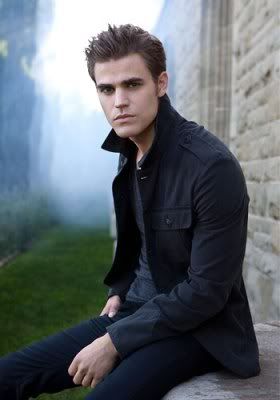 Okay, Stefan looks pretty good here too.
♥
Well, I'm off to continue watching episode 5 to 8 now. Enjoy the pics! ^^